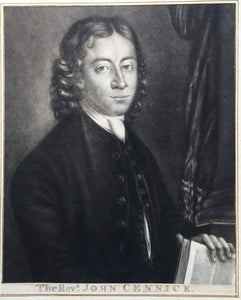 An exceptional assemblage of individually published sermons, now bound, by John Cennick [1718-1755]. In 1739, at the genesis of the Great Awakening, Cennick became associate preacher to John Wesley. However, at the doctrinal rift between Wesley and Whitefield, Cennick sided with Whitefield and began traveling with him and served as associate evangelist. In 1749 he joined the Moravians who had come over from Herrnhut, propelled by the ongoing revival under Count Nicholas von Zinzendorf. 
Over 30 sermons, each with separate titles and pagination, include: The Bloody Issue [1745], St. Paul's Conversion [1755], The Good Shepherd [1755], The Best Foundation [1755], The Good Samaritan [1744], Simon and Mary [1759], The Marriage of Isaac [1753], The Two Covenants [1756], The Benefits of the New Covenant [1754], The Divinity of Christ [1759], The Sower [1762], The Lost Sheep [1754], The Syrophonecian [1759], The Shadows of Christ [1754], etc. etc. 
Many were preached in Ireland during the revivals there where Cennick often functioned as Whitefield's proxy. They were then published later. A few are defective, but include facsimiles of anything lacking. Most in good order. A superb and unique assemblage.