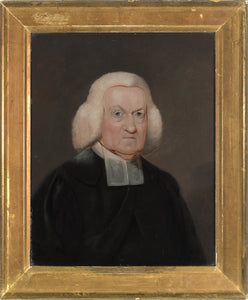 This is a charming and wonderful little piece of revival, Presbyterian, and American colonial history. 
The Artist: Executed c.1795-1800 by William J. Weaver [1759-1817]. Weaver is an important early American itinerant artist, based in New York City during these years. He is today best known for his paintings of Alexander Hamilton, which were very similar in size and construction to the present, though from a profile view. Weaver was also known to have painted George Washington, Martha Washington [both of which remain undiscovered], and other pro-colonial figures. It is no surprise then that he also painted John Rodgers, then pastoring the most prominent Presbyterian church in New York City, leading pulpit voice for the Revolution, and former chaplain to the Revolutionary troops. 
Weaver's portraits of a similar size have fetched more than $30,000.00 at auction. His innovative method of creating multiple original oil paintings [see article referenced below] means that he often created more than one of an image, though each are unique works and sold by Sotheby's, Christie's etc., as an original. There are I believe 22 known examples of the Hamilton painting, zero extant of the George Washington painting, and 4 of the Rodgers; two in the New York Historical Society, one in the Brick Church in New York City, and the present. 
The Sitter: John Rodgers [1727-1811]. Converted under George Whitefield as a 12 year old boy during the 1739 revivals in Boston [see the account below], Rodgers then and there committed that if he ever were allowed by God, he would give himself to the ministry. He studied theology while serving under revivalists Gilbert Tennent and Samuel Blair. Afterwards, he was recommended to Samuel Davies and went as Davies' assistant to plant Presbyterian churches in Virginia. 
By 1765 Rodgers reputation for godliness and as a man of deep experimental piety and searching preaching led to a call to New York City to take charge of Brick Presbyterian Church, which would later become First Presbyterian. There, seasons of deep and durable revival, which had before begun under Blair, continued and were strengthened.
It was there that, in 1770, before he would die while still in America, George Whitefield was preaching for John Rodgers. They were together in a carriage and Rodgers thought to ask a question he had always wondered. When he was in those meetings in 1739, where he found Jesus under Whitefield's preaching, it happened that he had brought a lantern with him. And so under the sway of the Spirit's working in his heart was he during Whitefield's sermon that he dropped it, forgetting to hold it under the spiritual influence. With a great crash, it disturbed the sermon for some minutes. And Whitefield ceased preaching while order was reassembled. Rodgers asked if Whitefield remembered, some 31 years earlier when a young boy had disturbed his meetings by the breaking of a lantern. Whitefield responded that he not only did, but often wondered what had happened to the boy. Rodgers informed him that it was him and that he was converted to Christ that day. Whitefield began to weep openly and said nothing moved him more than when he found not only that a person had been converted to Christ, but that God had called them to preach the Gospel of Jesus. 

About this time, he helped lead the charge of Presbyterian pulpits preaching vocally in favor of the American Revolution and against the repression of the British. Once the Revolution had begun, he served as a brigade chaplain in the Continental Army of the United States. After the war he returned to New York City.

As the new American Presbyterian church began to emerge after the Revolution, the Synod of New York and Philadlephia appointed a committee to compose the new Presbyterian Church Constitution. The committee included John Rodgers, John Witherspoon, George Duffield, and 7 others. By 1788, the constitution was completed, adopted, and copies were ordered to be printed for distribution. In 1789, the First General Assembly of the Presbyterian Church in the United States of America was held in Philadelphia with its moderator none other than Rev. John Rodgers. His sermon, The Divine Goodness Display'd in the American Revolution is one of the most important sermons preached relative to the end of the War. 
The present portrait serves as the model for all the later engravings of Rodgers. Samuel Miller, of Princeton, also published a very fine Life of Rodgers. He occurs in all the standard biographies of George Whitefield, Gilbert and William Tennent, etc. 
A wonderful piece of Americana, Presbyterian, and Revival history. 
This portrait referenced in William J. Weaver and His "Chymical and Mechanical" Portraits of Alexander Hamilton. Paul D. Schweizer. The American Art Journal. Vol. 30, No. 1/2 (1999), pp. 82-101.
http://www.thisday.pcahistory.org/2019/05/may-7-5/
https://static1.squarespace.com/static/590be125ff7c502a07752a5b/t/5abd9eb3758d46a7b619064c/1522376377459/Rodgers%2C+John+The+Divine+Goodness+Displayed+in+the+American+Rev..pdf
Painting Size: 7 1/2 x 9 3/4 on panel [identical to the Alexander Hamilton portraits]
Framed Size: 11 x 14 
Very good condition, painting apparently unretouched or restored and still remaining very nicely preserved.