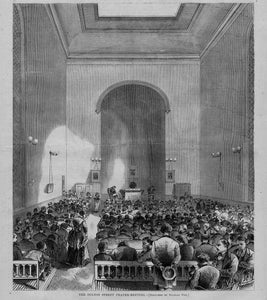 A wonderful and desirable item; an original 19th century large format illustration from the Fulton Street Prayer Revival of 1857-1858.
Titled simply, "The Fulton Street Prayer Meeting," the engraving was designed by Stanley Fox and issued by Harper's Weekly. The front has a banner, "In God We Trust," the motto of the revival. This time of incredible grace, led by Jeremiah Lanphier, is almost unique in the history of the Church. 
11 x 12 inches. Very good condition; line across middle where blocks meet, as usual.