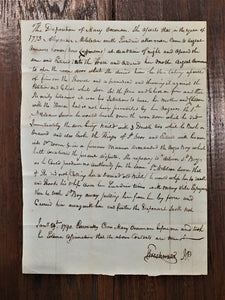 Very rare 18th century original manuscript deposition of Posquotank, NC regarding a Mary Overman's protection of a young slave from a man who clearly believes he has done some wrong. The man, McClean, comes to the house in the middle of the night demanding the boy. Mary Overman, knowing the boy would be brutalized, refuses to turn him over and McClean lights the house on fire, etc. A very rare unpublished item. 

The deposition of Mary Overman. She asserts that in the year of 1773 Alexander McClean with sundry other men came to Argent Armours house (now Luffmans) at deadtime of night and opened the door and entered into the place and ordered her mother Argent Armour to open the room door which she denied him he then taking a piece of fire on the stove and a brandend and throwing it against the petition and chest which soon set the floor and chest on fire and thus she verily believed that it was intention to burn her mother and children with the house had it not been prevented by her negroes. McClean swore he would break down the room door which he did. Immediately the door being nailed with 3 double tins which he broke or drawed and also broke the hinges of the door and entered with his man into the room and in a furious manner demanded the negro boy which hath occasioned the present dispute. She refusing to deliver said boy as he could produce no authority for the same said McClean sword that if she did not (called her a d***ed old b**ch) he would whip her to death and he shook his whip over her sundry times with many vile expressions. Then he took said boy from her by force and carried him away with him and further this deponent saith not.
January 29th 1790 Personally came Mary Overman before and took her Solemn Affirmation that the above contents are true.
[signed] Freshwater[?] J.P. for Posquotank, North Carolina.