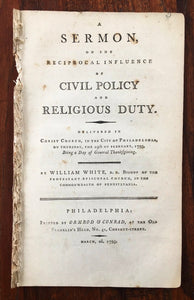 A very rare sermon preached with a 5pp dedication directed toward President George Washington, applauding him for the way inn which he has publicly invited the contemplation of God directly into the public discourse. 
"It cannot have escaped the notice of any, that, since your elevation to the seat of supreme Executive authority, you have, in your official capacity, on all fit occasions, directed the public attention to the Being and the Providence of God: And this implies a sense, as well of the relation, which nations, in their collective capacities, bear to him, their Supreme Ruler; as of the responsibility to him of earthly Governors, for the execution of the truths committed to them."
No other copies on the market at any price. A copy housed at the George Washingtonn Collection at the Boston Athenaeum.
White, William. A Sermon on the Reciprocal Influence of Civil Policy and Religious Duty. Delivered in Christ Church in the City of Philadelphia, on Thursday, the 19th of February, 1795. Being a Day of General Thanksgiving. Philadelphia. Ormrod & Conrad. March 2d, 1795. 36pp.
Title through p.36 complete and clean, at some point part of a larger sammelband, but complete as issued. Remains of sammelband on spine.