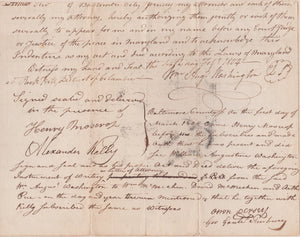 Wonderful original post-Revolutionary document autographed by William Augustine Washington, nephew of President George Washington and American Revolutionary Veteran.
WILLIAM AUGUSTINE WASHINGTON) (1757-1810). Nephew of George Washington and the sixth son of George Washington's older half-brother, Augustine. He served in the American Revolution and was wounded at Trenton and Cowpens, taken Prisoner at Eutaw Springs, served as an Army Brigadier General under the U.S. Constitution from 1798 to 1800, the American Congress presented him with a Silver Medal for, "...valor, in the battle at Cowpens, Jan 17, 1781."
1804 indenture granting power of attorney to two persons on behalf of W. A. Washington and then signed by two governmental representatives in Baltimore, Md. Minor losses at head. Very attractive. 
Colonel William Augustine Washington was the sixth son of George Washington's older half-brother Augustine. He was born November 25, 1757 and died March 6, 1810 or October 2, 1810. He is buried at Mt. Vernon. He lived first at Wakefield, the estate where George Washington was born. This house was destroyed by fire during a party Col. Washington was giving on Christmas day, 1780. He then moved to Blenheim, Virginia. He was commissioned a Captain in the 3rd Virginia Regiment on February 25, 1776. He was wounded at Trenton in December of that year, received his majority in January 1777 and was promoted to Lieutenant Colonel on November 20, 1778.

He was wounded again in the battle of Cowpens on January 17, 1781 and received a Silver Medal for his part in this battle on March 9, 1781. Taken prisoner at Eutaw Springs, September 8, 1781 he remained a prisoner on parole until the end of the war. Made a Brigadier General in July 1798, he was honorably discharged on June 15, 1800.