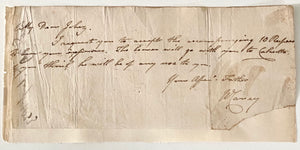 Here is a really lovely and rare piece of missionary history, and about as affordable an item obtainable autographed by William Carey [1761-1834]. The present, written to his son Jabez [1793-1879], also a missionary, was written just the year before his death.
This simple, paternal note of care was accompanied by some funds and a native gentleman to help with his travels if he so required it. Carey had just left the Baptist Missionary Society over differences with the successor of Andrew Fuller and moved to the College grounds where he would live his last few months working quietly on yet another translation of the Bible.
"August 29, 1833
My Dear Jabez,
I request you to accept the accompanying 10 Rupees to bear your expenses. The ***** will go with you to Calcutta if you think he will be of any use to you.
Your Affec. Father
W. Carey"
Quarter folio sheet mounted to an early sheet with loss at lower right, though no text impacted. Small tear and wrinkles at left side of document. Docketed on the rear probably in the hand of Jabez.