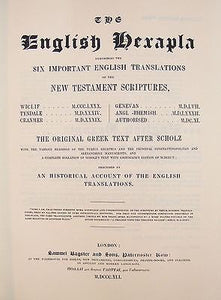 The English Hexapla: Exhibiting the Six Important English Translations of the New Testament Scriptures; The Original Greek Text After Scholz, etc. London. Society for Promoting Christian Knowledge. 1841.
Massive, near folio. And a really lovely example in original morocco with similar copies sold at $2,500 and more. A great opportunity to pick this up reasonably.
Full morocco leather with raised bands and elaborately tooled on spine and boards. Text very crisp and clean, etc.  Currently having front hinge reinforced, so perhaps a bit of a delay on order. Please inquire if that is problematic.