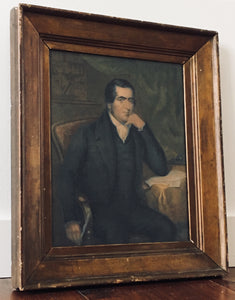 This item has it all. The print itself is extremely valuable, and this one retains its original frame, glass, and the full back label describing the item being sold by subscription, including a copy ordered by nearly every prominent Evangelical divine of the time.
The print was offered in Mezzotint or the more desirable "Oil-Coloured Portrait" which were each handpainted over the print and framed in gold frame. This is the latter and very rare fully intact. 
The Lamented Missionary the Revd. John Williams, who was cruelly massacred at Erromanga. [London: George Baxter, 1841.] Color Baxter print, 10 1/2 by 8 1/2 inches,  attractively framed in original frame, measuring 13 x 14.5 inches.

John Williams, a member of the London Missionary Society, was famously killed and cannibalized by the natives of Erromango. George Baxter was a personal friend of Williams.
Image a bit darkened, as usual, frame patinated but very handsome. 
Bonhams sold a slightly finer example for $2,440.00. Ours very reasonably priced.