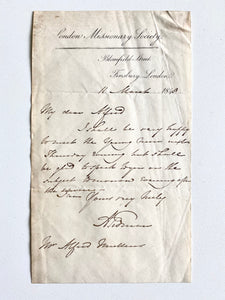 Wonderful little piece of London Missionary Society historical ephemera from the Foreign Secretary of the LMS.

Dr. Arthur Tidman [1792] was original trained as a medical doctor, but sensing a call to the ministry pastored three churches, including the last, his longest tenure, at Barbicon Chapel in London. He served there from 1828 until his death in 1868. During the final years of his pastorate, he served as the foreign secretary of the London Missionary Society, under whose auspices he here corresponds.
Dated to March 11, 1848, Tidman writes to Alfred Mullens on London Missionary Society letterhead agreeing to meet a young man, presumably interested in missionary work, and wishing to meet with Alfred ahead of time to talk over the matter ahead of time.
Nice little piece of rather early LMS correspondence and a nice single sheet example for framing.