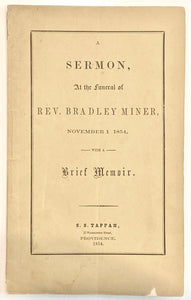 Field, Samuel W. [Pastor of the Pine Street Baptist Church in Providence]. A Sermon, Delivered at the Funeral of Rev. Bradley Miner, Pastor of the South Baptist Church in Providence, November 1, 1854, with a Brief Memoir. S. S. Tappan. Providence, Rhode Island. 1854. 20pp.
Rather unusual funeral sermon and biographical sketch of Bradley Miner [b.1808] who pastored one of the most prominent Baptist churches in Providence. Fascinating biography with accounts of local Baptist revival, his church being blown up by a gunpowder plant accident, etc.,
Clean and solid. Small chip at title as shown.