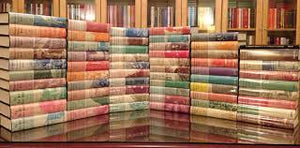 These complete sets now rarely show up on the market and many of the volumes have now long been out of print from Pilgrim.
This is the complete 63 volumes, bound in 59, issued each with Pilgrim's unique but complimentary dustjacket. This set also contains both the New Park Street Pulpit and the Metropolitan Tabernacle Pulpit. It's the whole shebang! 
Second hand, the volumes fetch $20 - $30 each and the ones that have long been out of print are much higher. 
Very good condition. Some light wear to dustjackets, minor rubbing, etc., Really an excellent collection.