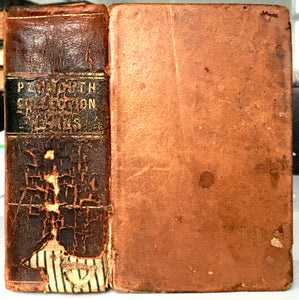 Wonderful and rather rare example of Henry Ward Beecher's Plymouth Collection of Hymns in use during the Prayer Revival of 1857 and 1858 which started at Fulton Street, but spread quickly to Philadelphia and to Boston, where it deeply impacted Beecher's church.
Beecher, Henry Ward [Ed.]. Plymouth Collection of Hymns for the Use of Christian Congregations. New York. A. S. Barnes & Company. 1857. 
Original full calf, quite rubbed front hinge through but solid, consolidated and solid leather overall; chip lacking from spine. Some foxing and some light marginal stains. Good - copy.