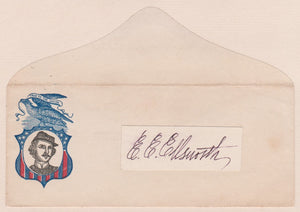 Very rare original autograph on Union envelope of Colonel Elmer Ellsworth, who would become the first well-known casualty of the Civil War.
Elmer Ellsworth (1837-1861) was an important young leader in the run up to the Civil War in New York. He volunteered to muster troops from his home town of Rockford and was the signatory on the muster roles. His leadership was cut short on May 24, 1861 when he became the first Union soldier killed in the Civil War. He was killed in the process of removing a Confederate flag from the roof of a Virginia hotel. He saw a Confederate flag hanging above the Marshall House Hotel. Afraid that his men might grow excited at the sight of it, he and another man went up the stairs to remove the flag. While descending the stairs James W. Jackson, the owner of the hotel, appeared and shot Ellsworth. Elmer E. Ellsworth was twenty-four years old. The whole Northern United States mourned Ellsworth's death.
The Rockford Register editor wrote, "In Rockford Col. Ellsworth was well known and our citizens were cast into the deepest gloom when the telegraph brought the news of his death." When Lincoln heard of Ellsworth's death, he was shocked. He demanded that the body lie in state in the White House as the first significant casualty of the war, until its return to Ellsworth's hometown in New York.
A single page letter recently sold at auction for $4,800 and a muster roll sold for $3,950.00
A handsome framing example. By descent through descendants of "John Hay," Lincoln's private secretary.