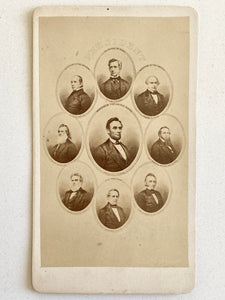 A very finely preserved, c.1863, carte de visite of then President Abraham Lincoln and his Cabinet. Rarely found in this condition.
The sepia tone lithograph depicts Abraham Lincoln; Secretary of State, William H. Seward; Secretary of the Treasury, Salmon P. Chase; Secretary of War, Edwin M. Stanton; Postmaster General, Montgomery Blair; Vice President, Hannibal Hamlin; Attorney General, Edward Bates; Secretary of the Navy, Gideon Welles; and Secretary of the Interior, Caleb B. Smith. 
No publisher information, as usual. Unusually, contains the word "President" over the photographs. This is not present in other examples we have seen. The only other example I find with this detail is in lesser condition and offered presently online at Artzze.com and available at $1249.95.