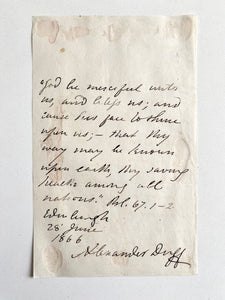 A beautiful single sheet framing item with fine missionary content by pioneer Scottish missionary to India, Alexander Duff [See biography below].
"God be merciful unto us, and bless us; and cause his face to shine upon us; - that thy name may be known upon earth, thy saving health among all nations. Psl. 67.1-2 Edinburgh. 28 June. 1866. Alexander Duff"
Very good state with minor folds and residue of adhesive on rear.
Alexander Duff [1806 – 1878] was the first Scottish Christian missionary in India. He was convener of the foreign missions committee of the Free Church of Scotland and the first Christian missionary they sent. He founded the General Assembly's Institution in Calcutta, now known as the Scottish Church College, and also played a part in establishing the University of Calcutta. He was twice Moderator of the Free Church of Scotland in 1851 and 1873, the only person to serve the role twice, and the only missionary to serve.

Duff can trace his evangelical passion to the same person who stoked it in the Bonar brothers, Robert Murray M'Cheyne, and so many others . . . Thomas Chalmers. While studying at St. Andrews, Duff was deeply influenced by the teaching and missionary fervour of Chalmers. He graduated with an M.A. in 1824. Subsequently he was licensed to preach by Presbytery of St Andrews in 1829, and ordained in August of 1829 as the first official missionary of the Church of Scotland to India. He set sail from Edinburgh one month later.
After an adventurous voyage during which he was twice shipwrecked, Duff arrived in Calcutta in May of1830. After inspecting the Bengali schools, he concluded that students were not receiving an adequate education in a broad range of subjects and secondly, that he would instruct his students using English instead of the local dialects. He at once identified himself with a policy which had far-reaching effects. Christian missions in India had been successful only in converting a few low-caste groups from a poor socio-economic background. The upper caste Hindu and Muslim communities had been practically untouched. Duff shrewdly assessed that these affluent communities could not be accessed by traditional evangelical methods. He recognized that holding out the prospect of upward mobility, by offering a western education, would bring the children of the affluent classes into his range of influence, which could then be extended to encompass religion. Duff devised the policy by using a western system of education to slowly convert Hindus and Muslims to Christianity. The success of his work had the effect: of altering the policy of the government of India in matters of education; of securing the recognition of education as a missionary agency by Christian churches at home; and, of securing entrance for Christian ideas into the minds of high-caste Hindus.
The school soon began to expand into a missionary college, known as the General Assembly's Institution. The location was a source of controversy for the Missions Committee who wanted to remain at the heart of Bengali society in the city of Calcutta. In 1834, Duff returned to Britain broken in health. During this sojourn, he succeeded in securing the approval of his church for his educational plans, and in arousing much interest in the work of foreign missions. His struggles were described in a speech at Exeter Hall on 8 May 1837 that called for hundreds of thousands of new teachers for India.
Duff returned to India in 1840, by which time the Institution had expanded to 600 Indian pupils from five to nine years old. At the Disruption of 1843, Duff sided with the Free Church. He gave up the college buildings, with all their effects, and with unabated courage set to work to provide a new institution, which came to be known as the Free Church Institution.
In 1849, Duff returned to Scotland. He was elected Moderator of the General Assembly of the Free Church of Scotland in 1851.
In 1856, Duff returned to India, where the mutiny broke out the following year; his descriptive letters written during this period were collected in a volume entitled The Indian Mutiny - its Causes and Results (1858).
In 1864, Duff visited South Africa, and on his return, became convener of the foreign missions committee of the Free Church. In 1870 he was the principal force in founding the Anglo-Indian Christian Union (an alliance of Protestant churches to minister to scattered British communities in India), of which he became the first President, and sent Rev. John Fordyce to India as the Union's Commissioner there. He raised money to endow a missionary chair in Evangelistic Theology at New College, Edinburgh, and himself became first professor. Among other missionary labours of his later years, he helped the Free Church mission on Lake Nyassa, travelled to Syria to inspect a mission at Lebanon, and assisted Lady Aberdeen and Lord Polwarth to establish the Gordon Memorial Mission in Natal. In 1873, the Free Church was threatened with a schism owing to negotiations for union with the United Presbyterian Church. Duff was called to the chair, and guided the church through this crisis. He also took part in forming the alliance of Reformed Churches holding the Presbyterian system.
Alexander Duff died, quite tuckered out, on 12 February 1878.