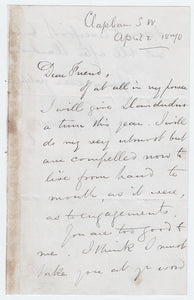 Spurgeon's rise to prominence was meteoric, unrelenting. As a result, he often opined that even his friends seemed to pay no mind to his health as evidenced by their incessant requests for him to visit and preach. It was not unusual for him to preach in 5 to 10 different locations per week. This undoubtedly played a roll in his ongoing bouts of depression and melancholy. 
The present is an example of one of the "laments" to a friend. 
Signed "Yours every gratefully, C.H.Spurgeon", he chats about about possible visits to Llandudno and Liverpool, which are apparently desirable. Yet, he feels himself, when it comes to preparation, he says, "I will do my very utmost but am compelled now to live from hand to mouth, as it were, as to engagements". Dated to April of 1870.
1.5pp,  on a 4 x 7 sheet; left margin stained where formerly mounted, otherwise very good.
$750.00