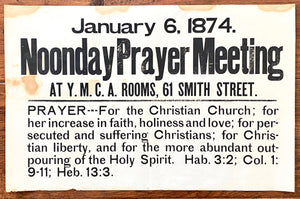 A very rare survivor from the Noonday Prayer revival movement that began at Fulton Street in 1857 and spread around the world, continuing to operate at full strength well into the 1870's.
The Noonday Prayer Meeting became so much a part of thinking about revival and evangelistic work that D. L. Moody and Ira Sankey, during the revival tours of Scotland and England, always first set to the work of establishing Noonday Prayer Meetings in any city they were to preach in before a sermon was ever delivered. Often, both in the United States and in England, the facility for these meetings was the Y.M.C.A., as in this case. They were viewed as highly non-denominational, had large facilities, and were already heavily evangelistic in their structure. 
The present example, the only one like it we have ever seen, dates to1874 and is from Newburgh, New York, located just 90 minutes north of the City. An attractive and rare survivor of the movement.
The YMCA was first formed in Newburgh in 1858, just six years after the very first Association was formed in America. This was largely due to the efforts of Arthur Potts. He became a pastor in Newburgh after leaving New York City, where he had already been instrumental in the formation of one of the first YMCAs in America.
Lithographed on a single, folded sheet. Measuring 12.5 x 19.5 inches. A few larger foxing spots as shown. Print crisp and bold and paper still in a very stable state.