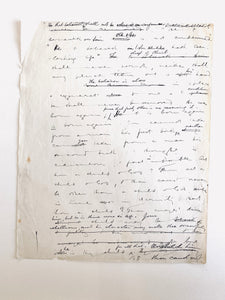 Wonderful piece of Spurgeonalia.
Each Lord's Day, Spurgeon's rhythm was the same. His secretary would take down his sermon long-hand as he preached [which, for many years, was from a simple 4 x 6ish card]. Then, on Monday, he would revise the secretarial transcript in his own hand. The present is one page of that revision process with the corrections entirely in his hand. 
Sermon Title: The Immovability of the Believer. "They that trust in the Lord shall be as Mount Zion, which cannot be removed, but abideth forever." Psalm 125.1
Date: December 22, 1878.