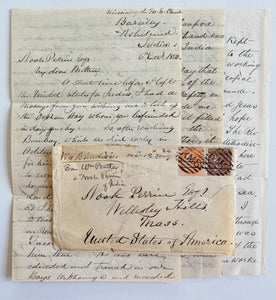 A charming little group of three letters related to the apostle of the American Methodist mission to India and two letters from a young boy who had become a Christian in the American Methodist missionary who founded the orphanage there. A superb little grouping. 
1. A wonderful 4pp densely written ALS by pioneer Methodist missionary to India, William Butler. 
William Butler [1818-1899] and his wife Clementina are considered founders of American Methodist missions in both India and Mexico and probably the most famous American Methodist missionaries of the 19th century. William was converted at a young age in his home country of Ireland, and immigrated to the U.S. in 1850. After being twice widowed in a very short period of time, he wrote to Clementina Rowe in Ireland asking for her hand. She had been influenced by his preaching some years before. She arrived in America in 1854 and they were married. 
In 1856 they sailed to India as founders of American Methodist work. After their arrival, the Sepoy Mutiny broke out and they fled to the mountains, where they remained under siege for eight months. After the uprising was crushed, they opened orphanages for children left homeless by the rebellion.  By 1873, the American Methodist church had their sights set on Mexico. William was recruited to begin the work there. He regularly returned to India to oversee the development of the mission, native pastors, etc., 
William authored, The Land of the Veda (1871), From Boston to Bareilly and Back (1886), and Mexico in Transition (1892). Clementina established the Zenana Paper fund that published Christian women's literature in five vernaculars. They are the subject of the biography by Dana L. Robert, "Butler, William and Clementina (Rowe)," in Biographical Dictionary of Christian Missions, ed. Gerald H. Anderson (New York: Macmillan Reference USA, 1998).
The present letter was written from the Bareilly District, India, December 6th, 1883. 
Addressed to Noah Perrin [see below]. In part:
"My Dear Brother,
A short time before I left the United States for India, I had a message from you wishing me to look up the Orphan Boy whom you befriended in days gone by. So, after reaching Bombay, which we did early in October, I began to look round for him and for others for whom I had to enquire also. I ascertained that he was alive and working for the Lord at Shajehenpore in Nohiland. So I had to wait till I worked round to this part of the mission, and on reaching Shajehenpore on Tuesday of this week I found him there. He was well, educated and trained in our Boys Orphanage and succeeded in qualifying himself to become a compounder of medicine in our Christian Dispensary there under charge of the native Doctor. 
The Missionary , Rev Nithu Bare, gave me a good account of Noah. He is a church member, meets in class and is very useful. He is well married to a good girl by the name of Sarah. They have no family.
. . . . . . 
Now, this is not all, but is it not a small reason to make glad the hearts of good men who like yourself sympathized with me in the matter 20 years ago and aided in establishing this Orphanage. Then, in addition there are the Boys who have turned out well who are not officials, but are layity, as artisans and farmers, living religion and training their families for Christ and Methodism. A small fraction turned our worthless. The large Majority are not only useful, but a credit to Christianity. can more be said of any Orphanage on Earth?
And when we think of what they might have because had we not taken the up - perhaps bitter enemies of the Gospel - we may well bless God for the glad results that have been realized from this Institution." etc. 
2. A 2pp ALS written by the Orphan boy mentioned who took on the name of Noah Perrin to honor his early care for him; addressed to Noah Perrin Esq [mentioned in Butler's letter], the prominent Methodist businessman and earlier supporter of the work of Butler. 
The early missionary society records of the American Methodist church find Perrin, a wealthy Massachusetts entrepreneur, on nearly every page as committee member, donor, and at times, even accompanying missionaries to the field. One of his sons became a prominent Methodist minister as well. 
In part:
"Sir,
I thank God that He has kept me very well from my childhood to the age of 24 years. And now I am working in the American Methodist Episcopal Mission Dispensary as a Compounder. 
I am very thankful that the Lord Jesus Christ helps me in my duties. I hope that He will make me successful. The Rev. W. Butler, the founder of the Methodist Episcopal Mission in India. Came here this morning and told me to write to your kind favour. I am very glad that I am your namesake over the sea. I am very happy to hear about you. I remember that a letter came to me through the Supt of the Orphanage when I was a little boy, but now I am out of the orphanage. And doing some work for the Lord. My wife's name is Sarah Nayllie Ross. She teaches in the house of a Native gentleman of Shahjehanpore. I shall be very much obliged if you kindly send me anything in your remembrance, your Photo, or something else. 
I am your most obedient, Noah Perrin. Shahjahanpore."
3. A further 1884 4pp ALS written by Noah Perrin [the orphan].
In part:
"Dear Sir,
I am glad to say that your kind & welcome letter of the Feby 6th came to me in safety on the March 15th, which made me very happy indeed, my heart filled with joy, when I received the Photo, of my adopted father, it gives me great pleasure when I see it. And I am the name sake of such a pious & zealous man. I am sure that he was a hard worker for the great work of the Master. I feel shame when I compare myself with him who was a good man. Dear sir pray for me that I may live in Him and for the glory of Him.
I am sorry to let you know that there is no Photographer in this place. But I hope that he will be here sometime then I will take my & wife's photo, as soon as possible and will send it to you . . . "
Followed by extensive spiritual and devotional content.