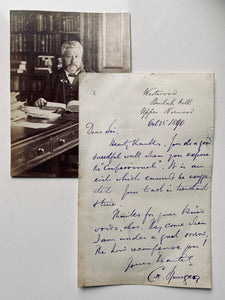 Fascinating letter by C. H. Spurgeon written in reply to a tract on the resurgence of the practice of the confessional among Anglicans. 
It is accompanied by a c.1890 photograph of Spurgeon, neatly mounted to an album leaf, some minor defects as shown on photograph. Still very attractive.
A fine framing pair. 
"Westwood
Beulah Hill
Upper Norwood
Oct 25, 1890
Dear Sir,
Hearty thanks. You do a good & needful work when you expose the "Confessional". It is an evil which cannot be exaggerated. Your tract is trenchant & true.
Thanks for your kind words, also. They come when I am under a great sorrow. The Lord recompense you!
Yours heartily,
C. H. Spurgeon"