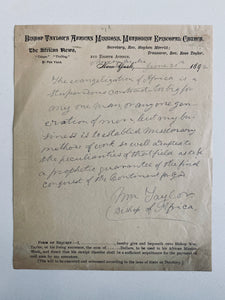 A wonderful autograph letter / sentiment by Bishop William Taylor [1821-1902]. He was one of the most dynamic Methodists of the 19th century; Taylor University is named for him.
He became a Methodist minister in the Baltimore Conference, but immediately traveled and became a street evangelist in San Francisco during the period of the Gold Rush, San Francisco Fire, etc., His giftings, especially in his formative years, seemed especially suited to Evangelism. This led, during the later 1850's and 60's to world-wide tours to Australia, Asia, and Africa, preaching the Gospel in the open-air. He then settled into his work in Africa where he was known in Zulu as the "fire stick," i.e. dynamite. 
The present, beautifully presented on original print letterhead, reads, 
"The evangelization of Africa is a stupendous contract - too big for any one man, or any one generation of men, but my business is to establish missionary methods of work so well adapted to the peculiarities of that field as to be a prophetic guarantee of the final conquest of the Continent for God.
Wm Taylor
Bishop of Africa"
Very good.