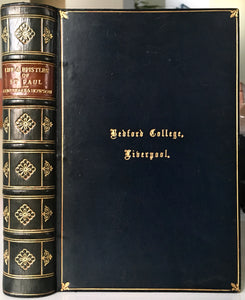 "Far superior to any other work on the subject. It stands like some o'ercropping Alp, a marvel among Scripture biographies." C. H. Spurgeon.
Conybeare, W. J. and J. S. Howson. The Life and Epistles of St. Paul. London. Longmans, Green, and Co. 1901. 850pp.
A wonderful full blue leather binding in beautiful condition. Four maps, all in nice, tidy condition. A superb copy.