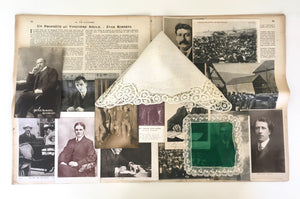 From the estate of a young lady involved in the Welsh Revival.
She was apparently converted during the time and sensing a call to go out and work for Jesus, asked Evan Roberts to pray for her and bless the small green Welsh silk handkerchief. For the next few years she prepared as a nurse and was active at the Keswick Conventions, the Torrey and Gipsy Smith meetings, etc., At the commencement of WWI, she became a triage nurse for the troops and took the Roberts handkerchief with her to apply to the soldiers during prayer and before she would care for them.
After the war, she was stationed in Australia where she attended the 1922 campaigns of Smith Wigglesworth. As was often his habit, he was happy to pray for her white linen handkerchief, that God would use it to work miraculous healings. She continued to use this for the rest of her career. According to family history, there were many miraculous healings of soldiers and others during her decades as a military nurse and these items played an instrumental role in the experiences.
Fascinating little items.