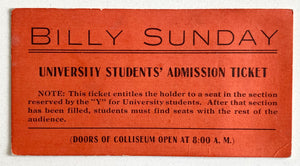 I have handled no other similar examples, and this one crisp with nicely preserved color.
Original ticket, we believe from the 1916 services held at the University of Kansas. 
Very crisp example with well-retained color. Measures 1.75 x 3.5 inches. Rear has loss to color from previous mount, but blank and the display portion of the ticket very good.
From Kansas University History [online] by John H. McCool.
"When word got out that evangelist Billy Sunday would be speaking at the University of Kansas, a number of professors were quick to protest his visit. Dr. F.H. Hodder of the history and civics departments described him as the "height of vulgarity." C.S. Skilton, dean of the School of Fine Arts, and a professor of the history of fine arts, denounced Sunday's "volcanic, sensational methods." And Dr. Bennet M. Allen, a KU professor of zoology, thought Sunday's condemnation of evolution, and his often-repeated warning that its adherents would someday join Charles Darwin in Hell, verged on the dangerous. Sunday "does a great deal of harm," claimed Allen, "in taking the attitude he does."

But, by and large, most KU faculty and students enthusiastically welcomed Sunday, with F.W. Blackmar, dean of the Graduate School, apparently speaking for the majority. "There is just as much reason for having Billy Sunday as for having William Jennings Bryan, Theodore Roosevelt, or President Woodrow Wilson," asserted Blackmar. "As far as achievement is concerned, there is no greater man, at present, in the United States than Billy Sunday, and there is no reason why he shouldn't come to the University, just the same as any other famous speaker. 
. . . 
The bulk of Sunday's mid-morning speech in Robinson focused on newspapers, which he called "the greatest single agency for good in the world." Sunday hailed their power to expose governmental vice and corruption and carry on moral crusades such as support of prohibition, (which would become the Eighteenth Amendment three years later in 1919). Newspapers can "compel decency," he his KU audience, and "there is not a single evil that can withstand a well-sustained, righteous attack from an honest newspaper." Not even the "dirty, low-down, rotten, swill-gutted whiskey bunch" could survive the rhetorical onslaught from a principled newspaper.

Sunday also commended Kansans in general for being what he deemed the "least illiterate" people in the country and congratulated them for making "ignorance slink away like a wolf in a lion's den." Whenever President Wilson wanted to know the pulse of the West, he told the audience, he only had to pick up a Kansas newspaper, for its editors and readers were some of the most upright, commonsensical, God-fearing people in the country, not to mention being among the most informed. According to Sunday, there were proportionately more newspapers read in Kansas than in any other state in the Union, and because of this, he told KU, "I have preached the glory of Kansas to millions and millions of people who have never crossed the borders of your state." Reminding his listeners that in 1880, Kansas had become the first state to adopt a prohibition amendment to its constitution, Sunday ended his speech by thanking all Kansans for "making a success of prohibition," adding that, "if I loved Kansas for nothing else, I would love her for that."

The nearly 2,000 students and faculty in attendance then gave him a roaring Rock Chalk chant, and KU Chancellor Frank Strong praised their guest warmly: "I believe in revivals and in Billy Sunday because he believes in the One who speaks with authority, and in this time of world crisis it is well to remember that there is only One who speaks with authority." Sunday then gave a final wave, the students a final cheer, and the firebrand preacher departed for another speaking engagement that afternoon in Kansas City."