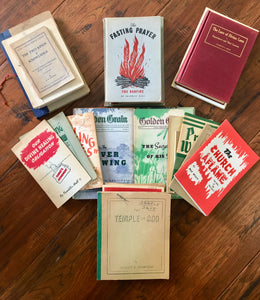 Wonderful assemblage of 47 early works ranging from the 19-teens through to the 60's almost all on subjects related to the miraculous, Spirit baptism, accessing the gifts of the Spirit, prayer, or life in the Spirit. 
Helm, Kathryn, The Lure of Divine Love; or, Experiences and Their Lessons. Selected from a Half Century of Practical Christian Living, Including Many Miracles of Divine Healing. Cincinnati, OH. 1929. 667pp. VG, Cloth.
Severson, S. B. Tuning the Harps of God. Iowa. The Bond Press. 1943. 156pp. Very good in wraps. Emphasizes the importance of the Gifts of the Spirit, Miraculous, etc. 
Kenyon, E. W. The New Kind of Love. The Solution of the Love Problem. 1942. 101pp. Saddle-stitched.
Kenyon, E. W. Two Kinds of Knowledge. 1941. 62pp. Saddle-stitched. Some rubbing and ink marks.
Britton, Bill. Sons of God - Awake! 1967. Dedicated to Seele D. Kinne. Saddle-stitched. VG. Ink marks. 
Headley, B. F. Sons of God. Nd. c.1950's. Saddle-stiched.
Williams, Leewin B. Holiness Illustrations. Self Published. 1940. 116pp. Original tied binding; very rare. Pencil marks.
Parr, J. Nelson. Conditional Security. GPH. c.1930's. VG
Thompson, Robert B. The Temple of God. Sample Publication. Perhaps never published. Early Assemblies of God. 1940's. Typology. 
Fitch, Thomas. Spiritual Gifts Restored. 64pp. Undated. c.1960's. 
Hall, Franklin. Atomic Power with God. 1946/52. 80pp. [2 copies]
Hall, Franklin. The Fasting Prayer. Obtaining Faith that Removes Mountains and Receives Spiritual Gifts. 1947. 222pp
Bodie, Mary M. The Two Creations Illustrated from Jacob and Esau. Grace and Glory. Kansas City, MO. 1920. 
Kenyon, E. W. Sign Posts on the Road to Success. 1938. 54pp. VG
Booth, Lawrence M. The Personal Return of Christ. Self-Published. Los Angeles. Nd. c.1940's. 
Williams, Ernest S. Not I but Christ. Practical Thoughts on Victorious Living. GPH. 1939. 64pp. VG
Anderson, Thomas. Boring into the Jungles of South America. Very rare by one of the One-Way Azusa St Missionaries. No other copies on the market. Signed rfep Paul Thomas Anderson. Self-Published, Los Angeles. 1934. 30pp.
Wyatt, Max. The Church Aflame. The Gifts of the Holy Spirit. 52pp. 
Sims, A. Prayer Warfare; or, Testings, Unfoldings, and Victories in the Prayer Life. c.1920 [2 copies; one later]
Bodie, Mary M. Christendom Found Wanting; or Stirring Studies in Judges. Grace and Glory. Kansas City, MO. 1918. 100pp. 
Fitch, Theodore. Our Afflictions. Their Cause and Remedy. 64pp. 1950's
Hall, Franklin. Faith Treatments. Receiving and Exploding Faith. 1952. 64pp. 
Hall, Franklin. Our Divine Healing Obligation. 1950. 50pp.
Ward, A. G. Maintaining the Glow. And Other Studies on the Overcoming Life. GPH. 1936. 
Courtney, Howard P. Falling Leaves and Harvest Time. 30pp. Foursquare. Nd.
Price, Charles S. Golden Grain. 20 issues ranging from 1943 through 1955.