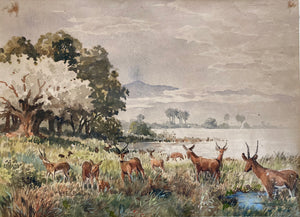 One of the larger examples of the artwork of William F. P. Burton we have ever handled, and still attractive, but with some condition challenges. Well worth preserving, and priced far below what we normally ask for them, and a wonderful piece of missionary and Pentecostal history. 
If you aren't familiar with Burton, read the fine biography of him below. 
Titled: Letchwe of Lualtaba [River], South of Lake Kisale [Democratic Republic of Congo]
Measures 11 x 15 + mount, boldly signed in the lower left, with some small abrasions, tears, and losses to upper right, upper left  [probably from old mount removal], minor scattered, and worse at lower right. Still very stable and attractive. Well worth preserving.
"William Frederick Padwick Burton (1886-1971) was an unlikely pioneer Pentecostal missionary. Willie, as he was known, enjoyed a privileged childhood. His mother was from English aristocracy, and his father was a ship captain. As a youth, Burton was not interested in spiritual things. He attended good schools in England and traveled around the world, developing a broadly-informed worldview. He excelled at cricket and tennis, and he became an accomplished artist. Realizing that art probably would not pay the bills, Burton focused on a more practical career path and studied electrical engineering at St. Lawrence College, Ramsgate.
In 1905, while in college, Burton attended an evangelistic service with a visiting American evangelist, Reuben A. Torrey. After hearing Torrey's message, Burton became convinced that he was not a true Christian. Despite being a member of the Church of England, Burton came to realize that he had a very superficial faith. One night, Burton knelt by his bed, confessed his sins, placed his faith in God, and peace flooded his soul. Change was immediate in Burton's life. He joyfully shared his newfound faith, he made restitution to those he had wronged, and he began what became lifelong disciplines of studying the Bible and praying.
Burton's commitment to live wholly for God led him to identify with the Pentecostal movement. He heard about the Pentecostal revival in America and Scandinavia, so he and a friend decided to investigate the Pentecostal claims that Biblical spiritual gifts, such as speaking in tongues, healing, and prophecy, were still available to believers. They formed a group that met almost every night for the entire year of 1910, studying the Bible and praying for God's power in their lives. Before the year was out, Burton and many others had been baptized in the Holy Spirit.
Burton felt God's call to full-time ministry. He stepped out in faith and, in 1911, quit his engineering job and became known as a "tramp preacher." For three years he walked across the English countryside, preaching in homes and on village greens. During this formative period, he led numerous people to the Lord, witnessed miracles, developed his ministry gifts, and helped the young English Pentecostal movement to grow.
Ultimately, Burton felt called to serve as a missionary to Africa, where he would spend the rest of his life. He left England in 1914, just as World War I was breaking out, and spent a year preaching at various mission stations in South Africa. He was joined in 1915 by James Salter (the brother-in-law of noted healing evangelist Smith Wigglesworth), and together they journeyed to the Congo. He married Hettie Trollip in 1918. When the Congo Evangelistic Mission (later called the Zaire Evangelistic Mission) was formed in 1919, Burton became its first field director. Importantly, he was an early advocate for indigenous leadership of churches.
When Burton went to be with the Lord in 1971, the Congo Evangelistic Mission had grown to almost 2,000 churches. He had spent the majority of his life in Africa, far from the life of privilege he knew in England. While Willie Burton initially sacrificed a certain level of social status to become a Pentecostal preacher, he ultimately became a larger-than-life figure in the history of African Pentecostalism." [Darrin Rodgers, Flower Pentecostal Heritage Center]