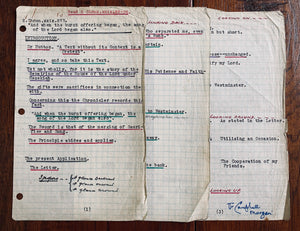 A wonderful piece of homiletic and preaching history; a complete three page combination typed and hand-written sermon manuscript by G. Campbell Morgan. 
It seems likely the present was delivered at Keswick since it came to me with other Keswick related manuscripts and includes an outline of his ministry at Westminster Chapel. 
Text: 2 Chronicles 29.27 "And when the burnt offering began, the song of the Lord began also." 
Some folds at extremities, but complete and entirely legible.