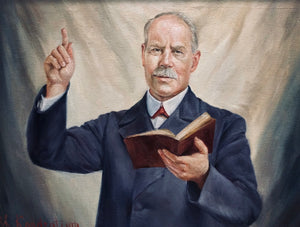 A wonderful opportunity to own a little piece of Pentecostal history. Over the last number of years, we have been fortunate enough to help place a variety of important artifacts from the estate of Smith Wigglesworth, obtained directly from his family. These have included truly museum-worthy items such as the only known from-life painting of Smith, his personal preaching Bible, volumes from his personal library, and more.
Because of his historic importance, the price range of these items tends to far exceed the budget of the average collector. This is why we are so pleased to be able to offer this wonderful little collectible at an affordable price point.
Last year, we were able to acquire his personal box of Scripture Promises and make those available individually, with a limited edition print of the present painting, at a price that is more accessible. 
For sale here is the original painting we commissioned as the original the prints were produced from. There is only one "from life" painting of Smith Wigglesworth. We acquired it from the family some years ago and it has long ago gone to its permanent home. This work is a combination of two well-known photographs reimagined. The famous preaching figure portrait of Smith Wigglesworth had two problems. In it, he did not have his iconic mustache or his usual tie. So our artist absorbed those two details from other portraits and combined them into what we think is a truly iconic little image of the evangelist.
It measures 12 x 16 inches, oil on canvas, and comes in mint condition, unframed.