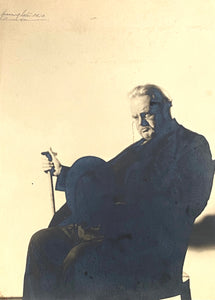 Very rare original photograph by one of the most important early 20th century British Photographers, Howard Coster. His classic silver gelatin prints, of which this is one, fetch hefty sums at auction. T. E. Lawrence, smaller than the present, sold for for over $5,000 at Christie's;  both signed by on the front upper left and stamped from the studio of on the rear, another sold at Sotheby's for over $6,000.
The present, measuring approximately 7 x 10 inches, is a variation of the famous 1934 portrait used as the lead photo for chesterton.org. We do not believe this version we are offering here was ever circulated and are not able to locate a single other example. It is slightly taller and narrower than usual; perhaps from Coster's actual studio then gifted. It is likely from the same sitting. Pencil inscribed 1937, which of course is not the photo date since Chesterton died in 1936. It is likely the date of printing or the date is was gifted by Coster 

As usual, some silvering to the black portions; paper lightly toned. The whole very attractive.