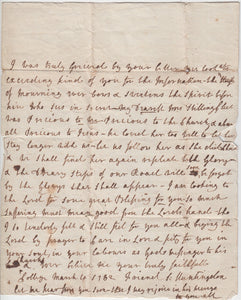 Anything related to the Countess, who was nearly the sole financier of the Great Awakening, is scarce. She supported Whitefield and the Wesleys without reserve. She founded her own training college for the new evangelists coming to Christ through their ministries. She then built them chapels all across the United Kingdom, nearly exhausting her vast estate. 

The present is a really superb content one full page autograph letter, entirely in the hand of Selina, Countess of Huntingdon [1707-1791] and addressed to the Rev'd Mr. Newell at Knightwick Near Worcester.
Wonderful content reflecting on the death of Mrs. Stillingfleet, close personal friend of Selina's and co-laborer in the efforts to promote the Great Awakening. Her husband, Reverend James Stillingfleet was part of the Great Awakening movement inside the Church of England. His wife, Katherine, the deceased, was a vocal advocate for the movement as well and known for her gracious, earnest piety. 
Selina wishes Newell success in his "labours as God's Messenger to his Church", but then moves on the main affair of commending the godliness of her friend: "My Dearest Mrs Stillingfleet was precious to me, precious to the Church, & above all precious to Jesus – he loved her too well to let her stay longer with us – let us follow her as she did Christ & we shall find her again repleat with Glory & the dreary steps of our Road will soon be forgot by the Glorys that shall appear," etc.
Signed "Your Faithful Friend, S: Huntingdon"
1 page, 8 x 10 inches, complete with just a few minor blemishes. Dated to March 10, 1782.