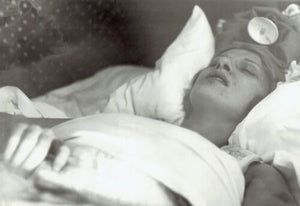 A very fine original press photograph of evangelist, Aimee Semple McPherson. 
This particular image I find to be one of my favorites we have ever handled as it so fitly describes her. Undoubtedly, Sister Aimee was a character. Not that she wasn't authentic, but she was dramatic at her core. 
If you read her life, she golfed, hung out with movie stars and prostitutes, made the papers regularly for some or other drama at Angelus Temple, was "kidnapped," divorced, remarried, etc. 
And this photo captures another "Aimee" moment. She was wildly popular during 1930 and likely had run herself to exhaustion. She was at her cottage home at Las Tunas Beach and suffered from a fainting spell. The doctors then said it was a nervous collapse and confined her to her bed where she told reporters that she was tired and no longer wanted to recover and get well. She exclaimed that she was tired of the bickering and fighting and it sounds as though was considering leaving the Temple. 
It was perhaps the most Aimee thing she could do to be suffering from nervous exhaustion, on bed rest, and then invite a room full of reporters in to do an "extended" interview. 
Very good condition. 6.5 x 9.5 inches. Very minor creases. Images crisp and with good contrast.